Home Builders: What You Need to Get Started with C2P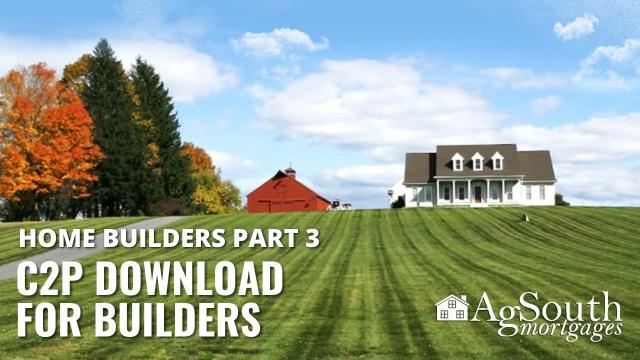 Home Builders and Contractors, we give you everything you need to get started with our Construction-to-Permanent Financing.
*This article is featured in the Home Builders Association of South Carolina Newsletter.
C2P Builders Package with AgSouth Mortgages
In our last article, we discussed the benefits of Construction-to-Permanent Financing with AgSouth Mortgages.  Those benefits include a percentage based draw schedule and quick draw turnarounds for you; and one-time closings and long-term rate locks for your clients.

In this article, we're going to give you everything you need to get started using our Construction-to-Permanent product with AgSouth Mortgages.
Download the C2P Builders Package
Get ahead of schedule when preparing to work with AgSouth Mortgages on our Construction-to-Permanent Financing product by downloading the full Contractors and Builders Package.

In the download, you'll see we need:
Copy of contractor's license showing that you're in good standing with the state
Contractor's liability & worker's compensation policies
Copy of your W-9
Copy of signed contract between borrower and builder
House plans
Disbursement draw schedule
Builder's Risk Policy
Builder's Contract Information Sheet
Click Here to Download C2P Builder Package
Our next article will go over the benefits of our second home construction product – Rural Home Construction Loan with AgSouth Farm Credit.
AgSouth Locations
We serve 34 counties in South Carolina and 59 counties in Georgia. If you have questions about our products and how they benefit you and your clients, our Loan Officers are happy to answer any questions you might have. To speak with a Loan Officer near you, please visit our locations page.